I Was Nearly Trapped Into Joining A Cult
Posted: December 21, 2011
Filed under: Failure, Friends, Informational, Rant, Writings
| Tags: Braintree, Cult, Entrapment, I-Kuan-Tao, Jim Jones, Jonestown, Love Bombing, MBTA, Quincy, Taylor, The Dao, The Suits
3 Comments
Seriously, the shit Taylor gets me into. Yesterday, being Tuesday December 20th, Taylor gives me a call at 3PM asking if I would like to go out to a party with him that he was invited to by two Asian girls he had just met on the train no more than a week ago. He tells me this during that phone conversation:
"I asked them if it was going to be a party with alcohol, they said no. I asked them if it was going to be a party with dancing, they said no. They said it was going to be a party with ten or so people sitting around and talking, but having been to China, 'sitting around and talking' means there's going to be a giant 4 course meal, so bring your stomach."
I agree to go. Taylor is an identical copy of me: he and I look like brothers, we like the same exact stuff and I have gone on random adventures like this with him before and had an awesome time each time (one including an incredible spur of the moment concert with punk bands). Agreeing to this is no big deal, Taylor and I get ourselves knee deep into things all the time, so why should this be any more different? We decide to meet each other at the T at 5:30pm and take the bus together to these girls' house just past the Quincy shipyard in Braintree.
(Note: This post is very long and if you want to avoid the details and you just want to read the rant, scroll down to "In Retrospect")
When I arrived at Quincy Center, I stood there for no more than 20 seconds before I sent Taylor a text saying "At Q center" … and then promptly saw him walking behind me. I catch up to him and ask him again what we're getting ourselves into. He tells me the same thing as before: He heard these two girls speaking Mandarin together and since he knows the language, he started to talk to them so he could practice his Mandarin. He ends up obtaining their QQ numbers (It's like AIM for Asians) and talked with them over the chat service for a week before they invited him to the party they're having. Taylor asked if he could bring a friend and they said yes. Now here we are about to take the bus together to this party.
We went into the convenience store at the train station so Taylor could bring them a gift (he really wanted to bring them a pound cake), but I thought about the possibilities of what this party might turn out to be. Either A) I'm going to be sitting in a room and Taylor is going to be talking Chinese and making jokes about me that I can't understand, or B) these girls are going to heavily flirt with us before… drugging us and stealing our kidneys to sell illegally on the black market/drugging us and forcing us into marriage for green cards/murdering us. Regardless, I'm going into this situation knowing it will be very awkward. I snapped into reality and convinced Taylor to scrap the idea of bringing a pound cake to their party, because if they're working hard on an epic meal, we should not be bringing a shitty convenience store pound cake, because that would be rude.
We walk out of the store and our bus is loading passengers, so we head on the bus and talk more about this party we're going to. Taylor thinks there's a possibility the girls are looking for love (one of my fears) and he says, "You (Joe) might be able to score some tail." I remind him I have a girlfriend and he tells me, "You have a girlfriend?" Yes, Taylor, I have a girlfriend! I showed him a picture of her and he said, "Oh, but she's not Asian! You need an Asian girlfriend!" Such a boy… Taylor then mentions and that he just remembered something: one of the girls was walking through her house on her laptop showing him the house on webcam when Taylor saw a shrine behind her. It was a huge Buddhist shrine, bigger than any he's seen in any household before… Now he jokes that we might be getting ourselves into something religious and we might be walking into a house full of Asian Jehovah's Witnesses.
We exit the bus and walk down the street to find the house. As we stand out front, we can see the shrine from the street, as well as about three small boys inside running around playing. We entered the house and took our shoes off, as is customary, and we see there's a lot of cooking going on in the kitchen. Good thing I brought my stomach! One of the girls Taylor met kindly grabbed our jackets from us and showed us to the other room, where the shrine is, and we were given a place to sit. I noticed that everyone was wearing the same exact blue suit and tie uniform… This didn't bother me at first, because they all looked like flight attendants and I assumed they may have just made it home from work, or it's because they're Asian and saved by buying in bulk. The same girl who took our jackets kindly offered us Pepsi or water, and I went with a water.
As soon as she left, we're immediately surrounded by no less than three of these airline looking attendants in their blue suits. They ask us about or religious backgrounds and Taylor told them he was born Jewish and I told them I was born Protestant. Still surrounded by suits, we're taken over to a painting next to the shrine where we're shown a picture of all the Gods of all faiths, including Jesus, Muhammad, Buddha, Guan Yu and many others sitting together in harmony with a noticeably larger "God of all Gods" sitting in front of them. We're then told about "The Dao," or in English, all religions come together for one specific meaning: "The Truth." Much like how we all work different jobs for money, different religions seek to obtain the truth. These people know "The Truth" and want to share "The Truth" with us, so they sit us down, again, surrounded by three to five suits and they tell us to fill out a "registration form."
Have you ever suddenly realized that you're very very scared and you're trapped and as you reached for your pocket to have 911 ready on speed dial that suddenly- BIG MISTAKE! I left my phone in my jacket! Oh God, I might just die here… Honestly, these suits are preaching their religion, which they continued to tell us was not a religion, and they told us we must seek "The Dao" and we must "Cultivate the Dao" and become better people in our community. No less that twenty-five suits are in this house and they continued to tell us we need to help ourselves, we need to help others, become used to giving to the community and ultimately, we will find our way to heaven with "The Dao." Over and over we're preached to about how everything in the world comes to "One" or "The Truth" or "The Dao." Our fingers come together as one at our wrist, branches come together at the trunk, all religions come together with "The Truth."
As much as they're preaching this, they also tell us that they're not a religion. They say that "The Dao" can be sought through Christianity, Islam, Buddhism, etc. They mention that their shine is to the fat Buddha, because 90% if their temple is Chinese and they are people who are familiar with the Buddha. If they were to put Jesus there, the followers would become lost because they don't know Jesus. Buddha is simply used for comfort. They tell us if Jesus were to preach in China, he'd use Chinese text and Chinese philosophy, because it all comes to the same point of "The Dao." If Buddha were to come to America to preach, he would use the Bible, again, because it all comes to the same point of "The Dao."
I'm nervous and continue to tell the suits "I am uncomfortable with this" and that I would not like to participate. Taylor agrees to participate for two reasons: One, he's doing it to be polite because he wants to leave alive and two, he's looking at it from an Anthropological standpoint: "I'll do anything once." In agreeing to take part in receiving "The Dao," Taylor had to make a donation. He gave them $5. We were surrounded at all times by no less than three suits at any time during the two hour grilling process of "The Dao" and how we must "Cultivate the Dao" and how their religion is not a religion, but again, there were no less than twenty-five total in this small house temple.
Finally, the first part of the ceremony begins. It involved offering food to the fat Buddha, burning incense and the sacred burning of scriptures with names of those in the temple. It was beautiful to watch. As the second part of the ceremony began, I was asked to leave the room as only those who are receiving "The Dao" or have already received "The Dao" can witness what goes on. Before I leave the room, Taylor whispers in my ear, "If you hear me scream your name, bust down that door and get me the hell out of here."
Sitting outside the shrine room, I'm surrounded by twelve to fifteen suits who are aware I am uncomfortable, start giving me food and lots of food as they all sit and talk with me about everything that, surprisingly, does not involve "The Dao"! Having a chance to relax, everything was awesome and I had fun talking and laughing with everyone that ranged from 20 year olds to 60+ year olds. One guy came in late (not in a suit) and he sat down and talked with me and asked me if I could give him the run down about myself and my friend. I told him how Taylor randomly met the girls, who then invited him, who then invited me. I told the non-suit that Taylor and I were both college students, I was looking into becoming a high school English teacher and Taylor was looking to teach English in China and he was in the other room currently receiving "The Dao." The guy said that teaching in America is a hassle and that I should try going to China to visit and look into teaching there. Several suits agreed and suggested the same thing. Hey, I'm open to new things and I'd love to teach English in China! But seriously, I'm broke, so not yet.
After 30 minutes of hanging out with the suits, Taylor comes out of the room and tells me he received "The Dao" and that there are things he can't tell me because they are secret. At this point, much like when I left the room, no one wanted to talk about "The Dao" anymore! They gave us food, lots of food! We talked, laughed, shared stories and told jokes… Suddenly this crazy religion about "Cultivating the Dao" turned into the most awesome social experience I've been to in a long time. Soon enough, Taylor was making jokes in Mandarin at my expense because I didn't know what they were saying, so I started to talk back in Spanish for the fun of it.
At about 10pm, Taylor and I were given a ride to the train station and that's when we could finally discuss what happened.
In Retrospect
Now that we are gone, Taylor and I could finally talk to each other like normal human beings and not kidnapping suspects. I had an awesome time as soon as I realized I wouldn't have to be tricked into the Cult, and considering the only cost was Taylor's $5 donation and we were fed like kings, I say it was alright on my end! But yes, it's a fucking cult. "CULTivating the Dao," love-bombing by giving us food and being nice to us (after being crazy), tricking us into a situation where religion is forced down our throats, matching uniforms, CULT CULT CULT CULT FUCKING CHRIST IT'S A GODDAMN CULT.
Their cult is probably the most narcissistic cult on the planet. Everything about the cult promotes the self: What can I do to make myself better, I give back to the community and I receive "The Dao" so that I can go to heaven. I'm not even joking when I say this: They have a secret handshake that no one can know about unless they receive "The Dao." Tell me that isn't the most selfish thing ever! Christians let non-Christians cry over Jesus and wear his cross, but heaven forbid I can't learn their fucking handshake!
Taylor gave them his name, address and a rarely used phone number. Looking back on this, this could kill him, because if they are a real cult, which we are certainly afraid of (I-Kuan-Tao is everything that we took part in and I-Kuan-Tao is a cult that has previously been banned), this could mean they might A) literally kill him, or B) Prevent him from getting to China. If they're Chinese Nationalists, which it sounds like because they were heavily suggesting Taylor and I go there, Taylor probably would not be blocked from entering the country, I'm worried he'd be trapped and stuck inside the country with no way out. The possibility that they are a cult also means that he may be prevented from leaving the country over something as dumb as being tricked by a couple of girls to a "party" and filling out a bullshit piece of paper.
PARANOIA PARANOIA EVERYONE IS COMING TO GET ME. I recently learned about cults and I took a sharp look into them and every bad sign most cults carry are popping up with this group: Their temple is in a house and they're building a real temple not so far away. Reminds me of Jonestown. They were showering us in food and affection, Love-bombing is a known recruiting technique by cults to lure people in. Also, the entrapment was severely disturbing and very Cult-esque. Taylor and I probably would not have gone to the party, much less would he have gone through the "Receiving Dao"ceremony if we had known "The Truth" beforehand.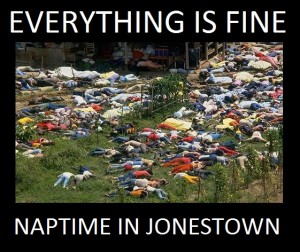 I think I'm going to lock myself into a room for the next several years. Someone buy me an M16 for Christmas and someone else get me ammo. Sharing is caring.
Love,
Joe
Have a question? Email: joe@joerenken.com or message Joe on Facebook: http://www.facebook.com/Renken
---